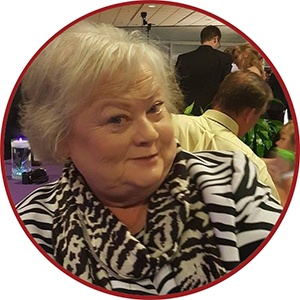 Marianne Bailey
Marianne has worked on campaigns since 1963 with well over 100 wins!

First campaign was the summer of '63 when her Father made her babysit gratis for the 3 Rumsfeld children while Mr. R ran for Congress. The extent of their conversations?

"…how many boxes did you do?" They actually stuffed envelopes mid-century!

Marianne began college at a small Catholic women's college in SF the day they "buried the Summer of Love," she tried desperately to be a Hippie but her North Shore rearing and her Pearls did not allow for that. Did we mention she is a debutante who was presented during the 1967-1968 season?

She spent the Nixon Years in Paris; studying at the Sorbonne and the Louvre and teaching at the Marymount International School. She had both Bobbie and Anthony Shriver among her diplomatic coterie of students.

Repatriated, she went to work for the Northwest Municipal Conference and excelled at Legislative analysis and lobbying. After staffing the Township Committee, she was asked to run the multi-township specialized transportation program which she did receiving international, national and statewide recognition under 3 Governors. She is in 7 versions of Who's Who and is quick to point out that her entry is 3 times as long as that of Hillary Clinton.

Marianne also worked for both Congressman John Porter and Congressman Phil Crane as Senior and Disabled Citizen Liaison. She was awarded the coveted Congressional Service Award for her contributions to the community.

Now in her dotage, Marianne continues her passion for community service through her work with the Lions and countless community service projects. The Reverend Mother, as she is known at Cor, lends her considerable talents to our Lake County campaigns. She may scold you in Latin or French; she takes no prisoners but she always has great fun and provides much laughter while advancing her candidates.